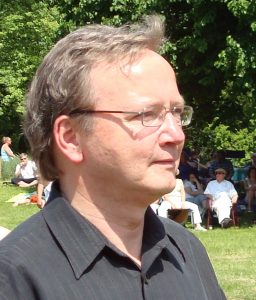 Since I was born, I have been living in the Ruhr Area (Ruhrgebiet), an urban area consisting of several large cities in the west of Germany. I appreciate the rich variety of museums, art galleries, parks and theatres here, but in particular I like the people, who are straight forward, friendly, open minded and have a sense of humour.
Seit meiner Geburt lebe ich im Ruhrgebiet, das sich in den letzten Jahrzehnten vom schmutzigen Kohlenpott zu einem kulturellen Zentrum entwickelt hat. Ich schätze die vielen Museen und Theater – vor allem aber die direkte, freundliche und offenherzige Art der Leute hier.
In my professional life, I am a teacher (chemistry, pedagogy and informatics) and a computer scientist, working at a comprehensive school in Witten and (sometimes) lecturing at the University of Münster. For twenty years I have been giving seminars on didactics of informatics at the FernUniversität Hagen. I have published a few books about programming (Python), visual modeling and Raspberry Pi.
Von Beruf bin ich Lehrer (Chemie, Pädagogik und Informatik) und Diplom-Informatiker. Ich unterrichte an einer Wittener Gesamtschule und (manchmal) an der Universität Münster. An der FernUniversität Hagen habe ich fast zwanzig Jahre lang Seminare zur Informatik-Didaktik gegeben. Inzwischen werde ich mehr und mehr zum Buchautor. Meine Spezialgebiete: Programmierung mit Python, visuelle Modellierung und Raspberry Pi.